What is EmbryoGlue ® (Embryo Adhesive) ?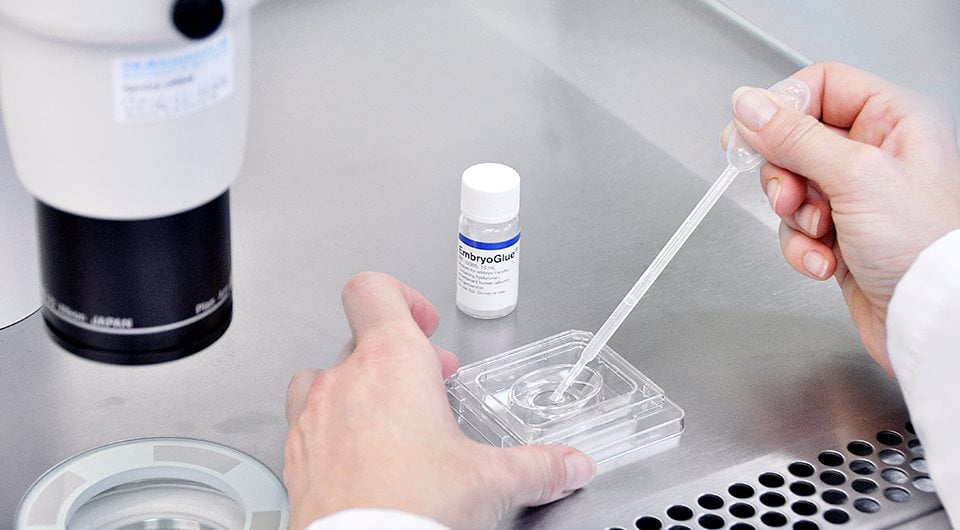 It is a kind of culture medium used in IVF laboratory. As embryologists develop embryos in the laboratory, they provide developing embryos with the nutrient medium they need to develop and divide.
EmbryoGlue® is not an adhesive as you know; It is a type of liquid embryo culture medium enriched with a substance called hyaluronan, in which embryos are deposited just prior to their transfer to the patient's uterus.
Hyaluronan is a natural carbohydrate found in all tissues of the body. It is rich in carbohydrates, amino acids and protein that the embryo needs for proper development. It is also called embryo glue because it reduces the mobility of the embryo in the uterus.
It is thought that dipping the embryos into EmbryoGlue® just before embryo transfer significantly increases the chance of pregnancy and increases the live birth rate due to the increase in hyaluronan levels in the uterus during implantation.
An article published in 2014 that included studies of 3898 women concluded that the use of media supplemented with high concentrations of hyaluronan during IVF treatment significantly increased pregnancy and live birth rates by up to 8%. One of the most important steps in IVF is embryo transfer.
Give your embryos a helping hand with EmbryoGlue.
How is EmbryoGlue® (Embryo Adhesive) Applied?
After your embryos are developed in a laboratory incubator for 3-5 days, the most suitable one for embryo transfer is selected. Embryos selected for transfer are placed in EmbryoGlue® and kept in this special culture medium for 30 minutes until the embryo transfer point. After this procedure, the embryos are taken from the culture dish and pulled into a thin tube called a catheter. The catheter is then passed through the cervix under ultrasound guidance and the embryos are transferred to the uterus.
What are the Side Effects and Risks?
There are no known risks from the use of EmbryoGlue®. Studies have shown that it does not increase the risk of miscarriage or pregnancy complications.
To Whom Is Embryo Glue Applied?
• Recurrent IVF failure
• In patients over 35 years of age
• It is used in cases where the quality of the embryo depending on the egg or sperm is not good.
We use the embryo adhesive method in the transfer phase of all in vitro fertilization treatments we apply in our center.
For an appointment, you can contact us on the phone number +905428656438 or the whatsapp line number +905428656438, or you can fill out the contact form from the contact section of our website.