We know that after you decide to do IVF in Cyprus, you have many questions. How will we go? Who will meet us? How will we provide transportation? Where will we stay? etc. as.
Regarding the transportation to North Cyprus the EU citizens can come directly to LARNACA Airport. The other citizens should come over Turkey to North Cyprus Ercan Airport.
If the patient needs help in any information about how to get to Cyprus our coordinators will be guiding them to be in the right path.
According to the transportation services at Dogus IVF Center inside Cyprus; we provide this service freely to the patients. This transportation service is from the following points provided freely:
Airport – Hotel
Hotel – Clinic
Clinic- Hotel
Hotel- Airport
There is no extra charge for those points Dogus IVF Center provides these exceptional services to the patients freely.
The international Patient Coordinator will be responsible to manage the accommodation for the patients according to their budgets.
There will be several choices given to the patients regarding their choice it will be managed.
The international Patient Coordinator will be always guiding the patient during their stay in Cyprus.
For Each season Dogus IVF Fertility Center team will select the most qualified hotels with the best offers for our patients.
You just need to contact us and everything will be managed according to your will.
Our Contracted Hotels for Accommodation
1. Bella View Hotel

Bella View Art Boutique Hotel in Bellapais is the first registered boutique hotel in Northern Cyprus and is located at the foot of Girne Mountain just below the village of Bellapais. With a passion for meticulous attention to detail and first class service, Bella View is a peaceful accommodation just minutes away from Kyrenia, the most famous touristic city in Northern Cyprus. Bella View has stunning views overlooking the historic harbor and the city of Kyrenia with the clear blue Mediterranean Sea. When you enter the luxurious Bella View Hotel, your first impression is that it is a pleasant place. Paintings made with oil paint gracefully adorn the walls. The traditional style living room gives both warmth and peace. If you are planning a holiday in Northern Cyprus and are looking for a hotel that offers luxury with the hospitality of Cyprus, your search ends here.
2. Altinkaya Hotel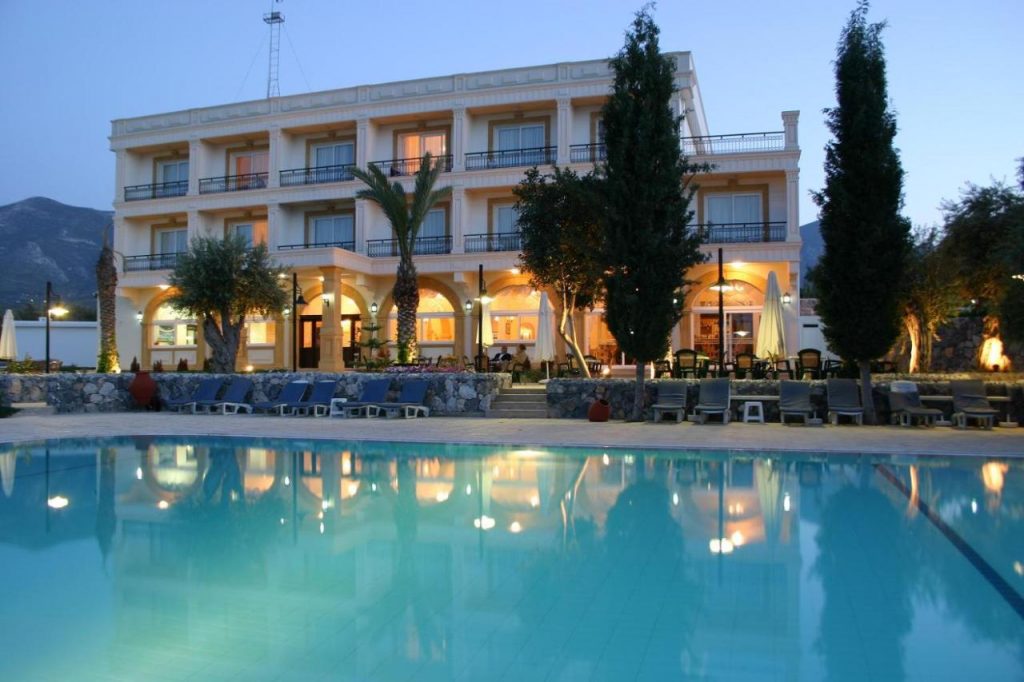 Altınkaya Hotel Resort is 1 km east of Kyrenia, 35 km from the airport and 1 km from Bellapais Village.
There are 2 outdoor swimming pools, Restaurant, Lobby, Library, Reading and TV room, Free internet access and Free 2048 Kbps Wireless Internet Connection, Bars, Bistro, Live Music, Garden Parking, Free minibus service to the city center.
35m2 – Bungalow Section; Refrigerator, Kettle, Satellite broadcast, Telephone, Bath or Shower, Balcony or Terrace, Air Conditioning, Hairdryer, Digital safe (free of charge) Hotel Section; Mini Bar, Kettle, Satellite Broadcasting, Telephone, Bathtub, Balcony, Air Conditioning (hot or cold), Central heating, Hairdryer, Digital Safe (free of charge)
It is in the Half Board system and offers open buffet breakfast and dinner service. The facility does not have a coastline to the sea.
3. Grand Pasha Nicosia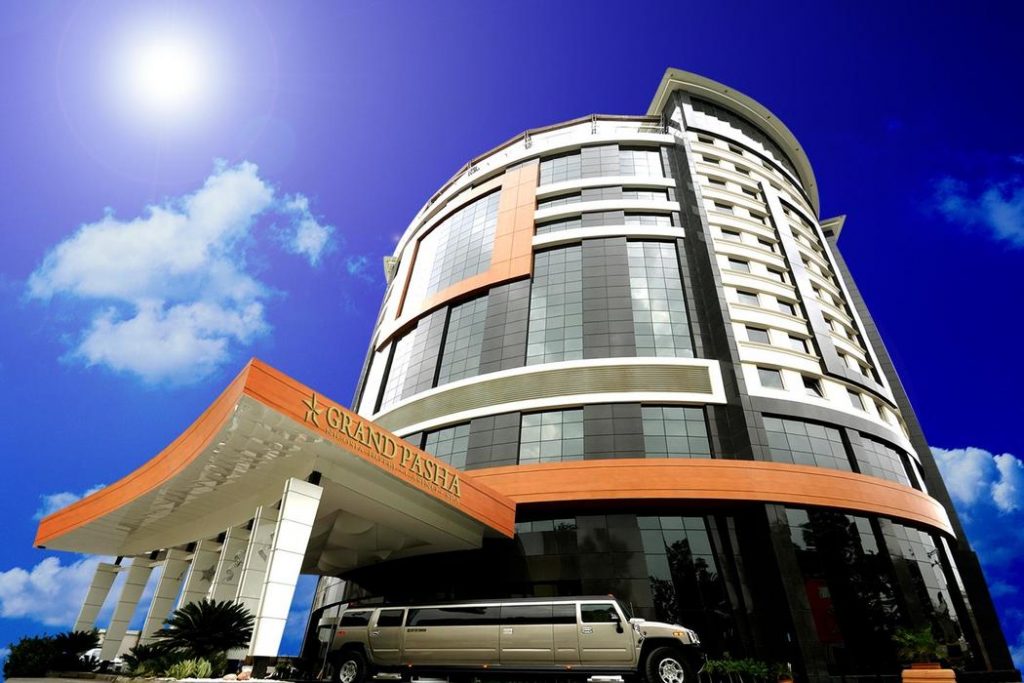 Just 10 km from Nicosia Airport, the cylindrical Grand Pasha Nicosia offers warmly decorated rooms with free Wi-Fi. Grand Pasha Nicosia has a spa, an outdoor pool and an on-site casino with live entertainment.
Rooms at Grand Pasha Nicosia have flat-screen satellite TV with pay-per-view channels. All rooms are fitted with carpeted floors, laptop safe and work desk. There is also a minibar and hairdryer.
Guests can relax on the sun loungers in the 1300 m² outdoor area with swimming pool. There is also a spa complex with sauna, hammam and massage facilities.
The hotel offers a daily breakfast buffet with fresh ingredients. Guests can enjoy local and international food and drinks at the hotel's 5 different dining options and bar.
Grand Pasha Nicosia & Casino is a 5-minute drive from the center of Nicosia. The hotel has free guest parking, which also provides valet service.
4. Lord's Palace Hotel SPA Casino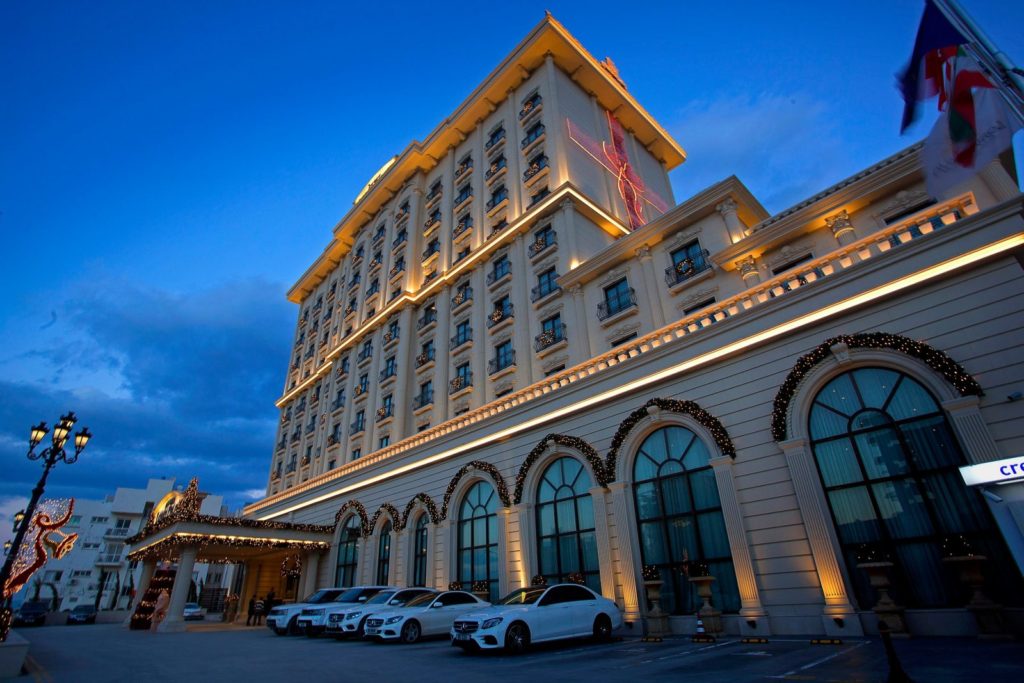 Lord's Palace Hotel & SPA & Casino provides service in Kyrenia. The facility, which is built on an area of 50 thousand square meters, is located at the seaside. In the SPA section built on an area of 1,000 m²; There are facilities such as indoor pool, Turkish bath, therapy room, fitness center, hairdresser for men and women, scrub & foam and massage service. In addition, special treatments, therapies, facial and body anti-aging treatments and various massage services are offered. Massage, hammam and sauna services are provided exclusively in the VIP room.
Lord's Palace Hotel SPA Casino is located by the sea. The hotel has a semi-Olympic outdoor swimming pool, an indoor pool and a children's pool. Hotel Activities; SPA Centre, Motorized and Non-motorized Water Sports, Beach Volleyball, Casino, Fitness Centre. The hotel has a capacity of 250 rooms. In each of the rooms; tea and coffee set, LCD TV, mini bar, bathrobe and slippers, electronic safe, hair dryer and work desk. It is 37 km from Ercan Airport.
The hotel serves as Full Board Plus. Open buffet breakfast, open buffet lunch and open buffet dinner are free of charge at the hotel. All alcoholic and non-alcoholic drinks, determined by the facility, served at lunch and dinner in the main restaurant are free of charge.
5. Merit Park Hotel & Casino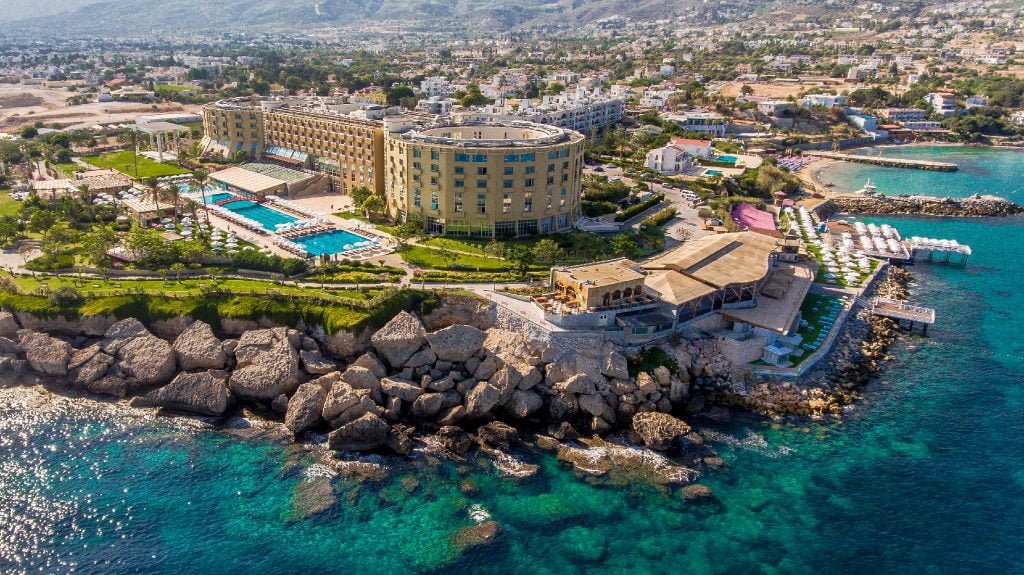 Located in the heart of the endless blue of the Mediterranean, the five-star Merit Park Hotel & Casino is only 6 kilometers from Girne city center and 42 kilometers from Ercan Airport.
Merit Park Hotel & Casino Cyprus, operating in the most beautiful spot of Kyrenia with an accommodation capacity of 286 rooms and 580 beds, has 68 deluxe standard, 16 deluxe standard rooms, 16 adjoining rooms, 27 suites, two deluxe suites and two king suites in addition to its 152 standard rooms. has. The features offered in our richly furnished standard rooms include a safety deposit box, central heating and cooling, minibar, direct dial telephone, bathtub, hair dryer, wireless internet connection and LED television.
Our guests using the all-inclusive system of Merit Park Hotel & Casino can turn the comfort offered by Merit Park Hotel & Casino into a unique pleasure according to their own tastes by choosing the deep blue seas of the Mediterranean or the unique view of the Beşparmak Mountains.
Things to Keep in Mind While Coming to Cyprus:
Don't forget to open your mobile phone for international use  so that you can use it in Cyprus!
Persons who have had a double dose of Vaccination or have had a single dose of Covid vaccine are considered vaccinated if 14 days have passed from the second dose of vaccine. Provided that they show these documents, they can enter the TRNC without quarantine. You can find the current travel conditions on the TRNC Ministry of Health website.
A valid 72 hours Covid-19 PCR Test must be performed before the flight date.
 When coming to Cyprus, you must be at the airport 3 hours before the flight time determined for you.